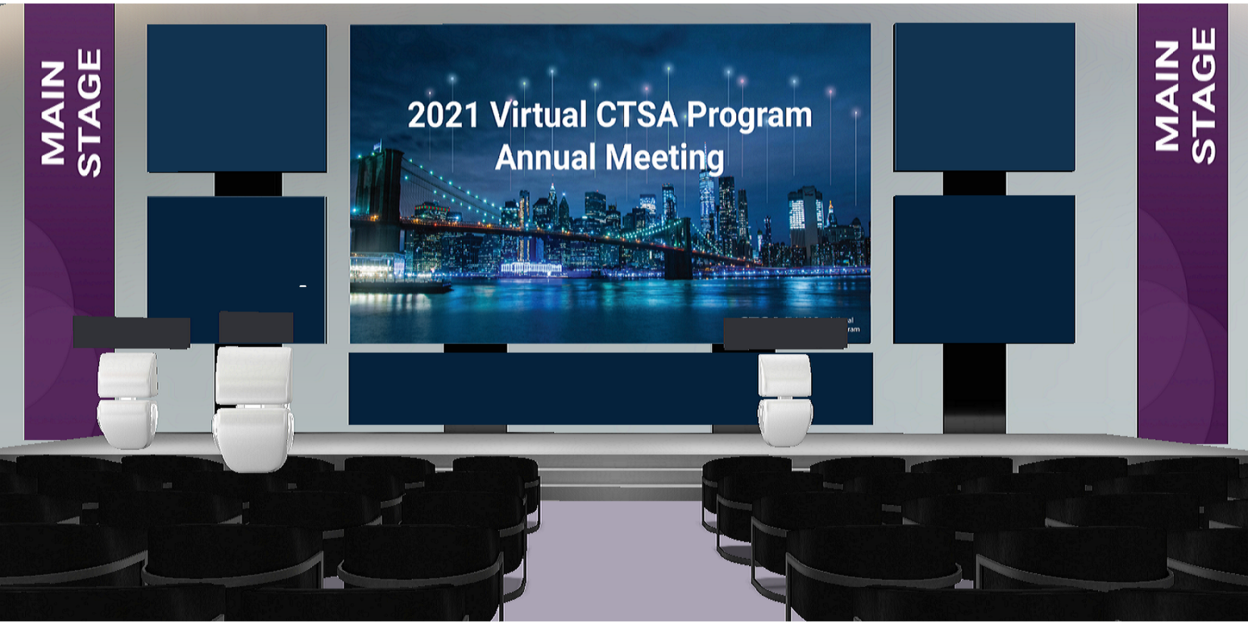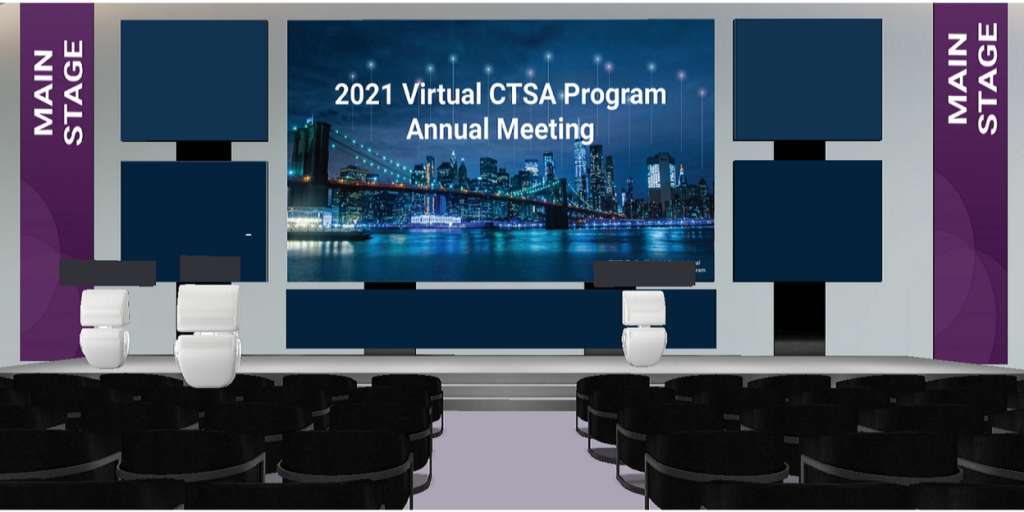 In early December, over 700 CTSA Program members gathered for the virtual 2021 CTSA Program Annual Meeting: "Intentional Disruption and Innovation: The Future of Translational Science." This event focused on the CTSA Program hubs' innovations that were spurred by the COVID pandemic and how to harness intentional disruption to foster similar innovation in the post-COVID world.
In line with the theme of creative innovation, the meeting was held on the exVo platform, which closely simulated the experience of an in-person conference. This video-game-esque platform allowed participants to wander the virtual meeting hall to browse posters, network with other meeting attendees, and take a seat in front of a stage to watch live presentations.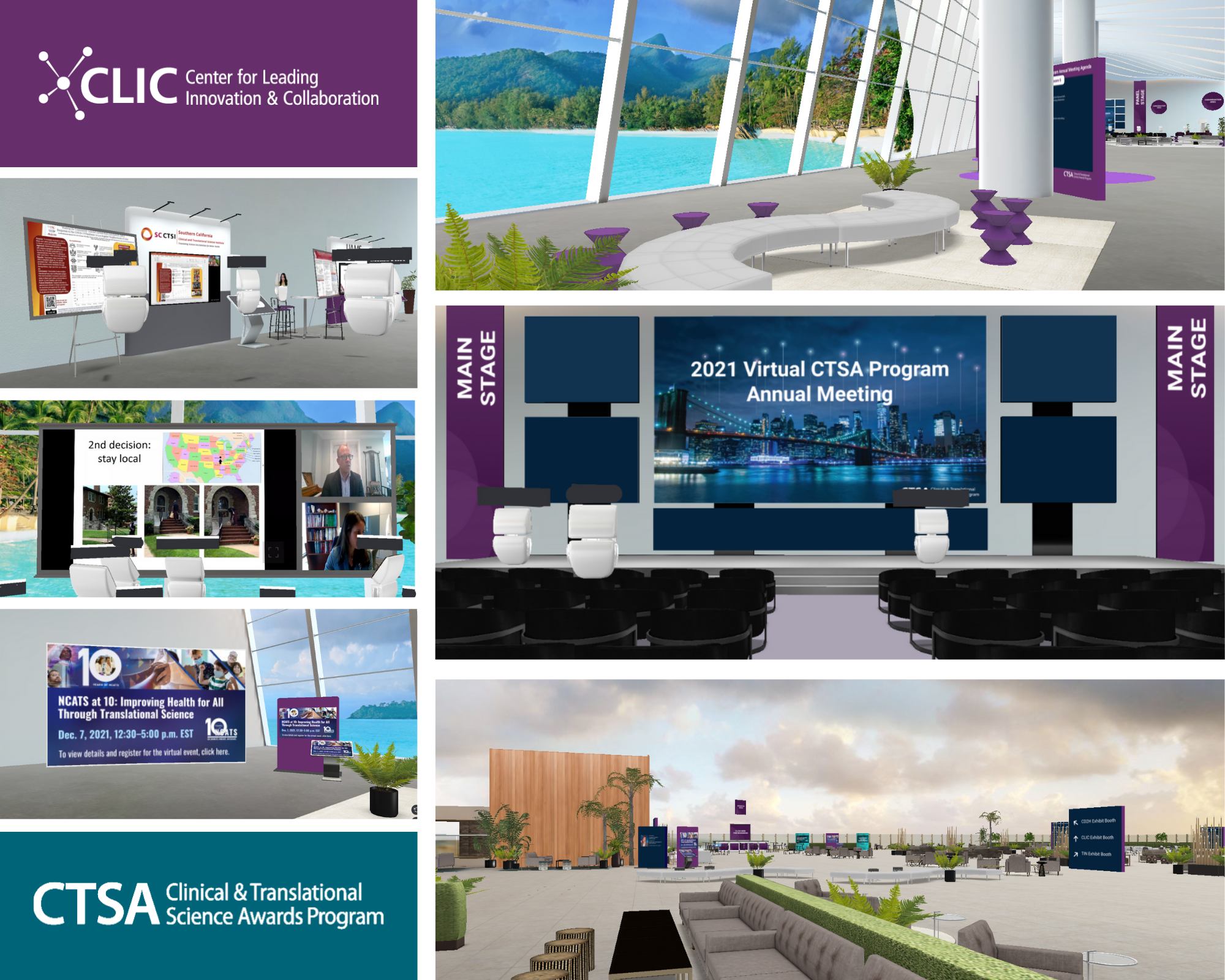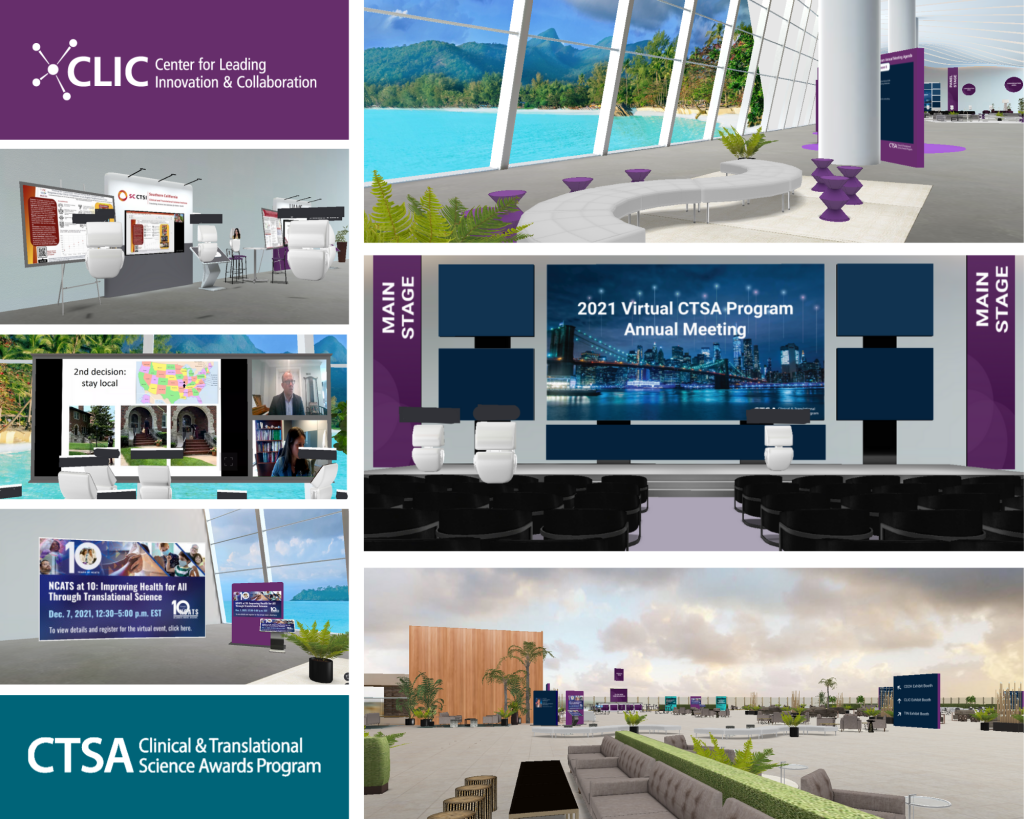 NCATS Acting Director Joni Rutter, Ph.D., fellow CTSA Program Steering Committee Co-Chair John Buse, M.D., Ph.D., and Division of Clinical Innovation Director Michael Kurilla, M.D., Ph.D., welcomed attendees to the virtual conference. The trio reflected on the past year of immense change and resulting disruptive innovation across the CTSA Program.
"What a year it has been!" commented Rutter. "The CTSA Program has been an amazing part of where we are as a nation in responding to the crisis we've had during the pandemic."
And yet, the consortium is constantly looking to improve. This time, turning to the Defense Advanced Research Projects Agency (DARPA) to learn more about their agile approach to project management. Keynote speaker Stefanie Tompkins, Ph.D., director of DARPA, gave an overview of the thought process behind developing new projects and spurring innovation in their organization.
This innovation doesn't come without risk. However, in the following Q&A session, DARPA Deputy Director Peter Highnam, Ph.D., encouraged treasuring the negative results and being unafraid of risk, echoing Tompkins' earlier assertion to celebrate failures.
With those inspiring sentiments in mind, attendees were ready to jump into two full days of presentations and collaborative discussions.
We learned the recipe for the "secret sauce" of creating multidisciplinary teams and effectively communicating with colleagues from different disciplines. Though there are multiple boundaries to overcome when creating such teams, there is a definite need for collaboration between disparate disciplines.
In the following session "Disruption as Opportunity", attendees divided into ten breakout rooms to discuss a variety of topics. Attendees delved into the importance of clear and effective communication in communities, the different levels of impact that unintentional disruption has across the lifespan, the high importance of handling climate-related impacts on human health and more.
Breakout rooms also kicked off day two. Attendees divided into three different rooms, where moderators shared real life examples of harnessing disruption to improve remote clinical trials and increase diversity among clinical trial participants.
Attendees took a breather during the "Advancing Well" session, which started with a group meditation and ended with a dance party. Panelists led attendees through multiple exercises to demonstrate the impacts of stress on physical and mental health and to get attendees to think about things that re-charge their personal energy batteries when they become too drained.
The meeting drew to a close with everyone looking towards the future of clinical and translational science, its impact on healthcare, and the ways hubs can expand this impact into their communities and institutions.
"The CTSA Program is a tremendous resource," said Steering Committee Co-Chair Buse, "and we must all continue to work together to leverage its full potential."
The CLIC is ready to work with the consortium to engage in this impactful work. The conversations and presentations from the CTSA Program Annual Meeting have left us excited for the future and ready to find opportunities for innovation in the face of uncertainty. We hope to see many of you at the Spring CTSA Program Group Meetings, taking place in Chicago, IL from April 22-23, 2022!
Meeting recordings & materials can be accessed via the CLIC website (login required).
CLIC
CTSA Program Meeting
Clinical and Translational Science
Intentional Disruption and Innovation