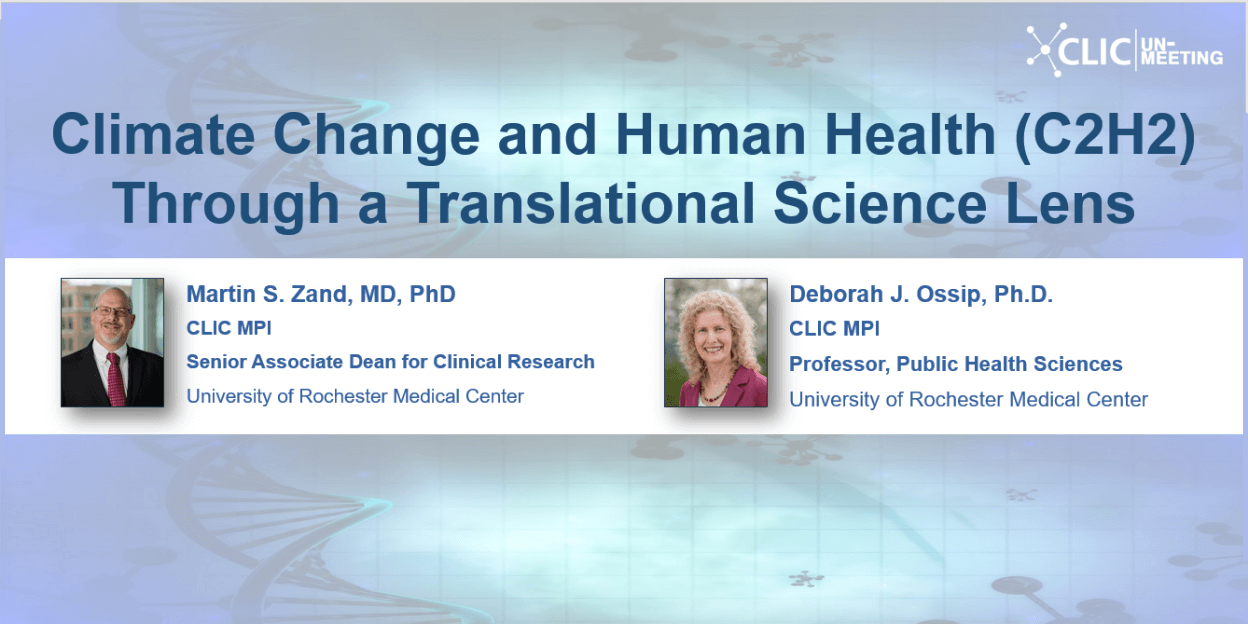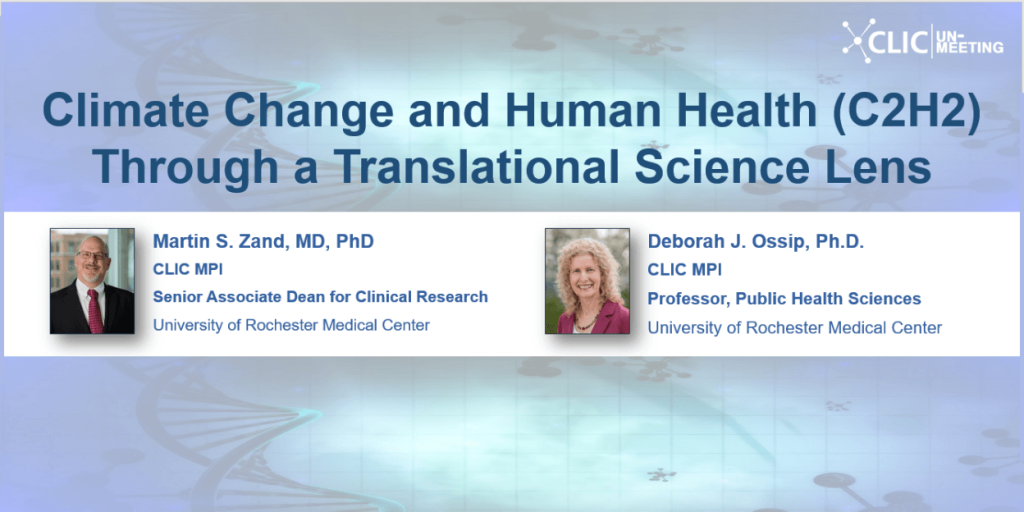 On February 10th, 2022, over 90 researchers from within and beyond the CTSA Program consortium virtually gathered for the CLIC-hosted Un-Meeting, "Climate Change and Human Health (C2H2): Through a Translational Science Lens." Attendees with a wide range of expertise explored how climate change impacts human health and how the medical community can help mitigate those impacts.
"Shouldn't one of the largest research networks in the world address one of the largest threats to human health in the world?"
That question, posed by David H. Adler, M.D., M.P.H., professor of Emergency Medicine at the University of Rochester Medical Center, was the driving force behind this Un-Meeting topic.
Michael Kurilla, M.D., Ph.D., director of the Division of Clinical Innovation at the National Center for Advancing of Translational Science,  opened the Un-Meeting by touching on the multiple public health crises we are currently facing but emphasized the need for specific focus on the longer term challenge of climate change.
"While people may have difficulty wrapping their head around it because it does seem so long term, [climate change] represents – in terms of a global emergency – one of the most significant challenges that we, our children and our grandchildren will face for decades to come," Kurilla said.
In order to make headway on mitigating the health impacts of climate change, an NIH-wide initiative is currently underway to better understand the needs of the international scientific community regarding climate change.
"There is a great need to bring multiple disciplines together: climate scientists, biomedical scientists, public health, health equity, the community, and stake holders who are involved in the systems of translation," said Gwen W. Collman, Ph.D., acting deputy director of the National Institute of Environmental Health Sciences (NIEHS), speaking about the initiative. "This is a global problem of enormous proportion that requires system-level solutions."
This unification of multiple disciplines goes beyond the scientific community. Collman also mentioned a need for cross-sector collaborations spanning urban, regional, and government planning, climate preparedness, agriculture, and green and non-green industries.
The makeup of Un-Meeting attendees, which included early-stage researchers, climate scientists, geographers, epidemiologists, cardiologists and more, fully reflected this overarching idea of multi-disciplinary collaboration.
The Un-Meeting also featured 4×4 presentations (four slides presented in four minutes) from presenters representing multiple CTSA Program hubs, the Centers for Disease Control and Prevention, and the NIEHS. The presentation topics ranged from "The Geography of Climate Inequity" to "Making Climate Doctors: How We Scale Up a Healthcare Workforce to Address the Climate Crisis."
Attendees then voted on breakout session topics and were divided into the various virtual rooms to discuss:
Addressing Disparities
Data Science for Climate Change and Human Health
Extreme Heat/Air Pollution
Cross-region Collaborations
Extreme Weather
Meeting materials, including presentation recordings and breakout room summaries, are posted on the CLIC website (login required).
Interested in continuing the conversations that you started at the Un-Meeting? Contact CLIC at [email protected] to set up a Spark Meeting!
C2H2
Climate Change and Human Health
CLIC Un-Meeting
Climate Change
CLIC
Un-Meeting
Ansible
Ansible March 2022