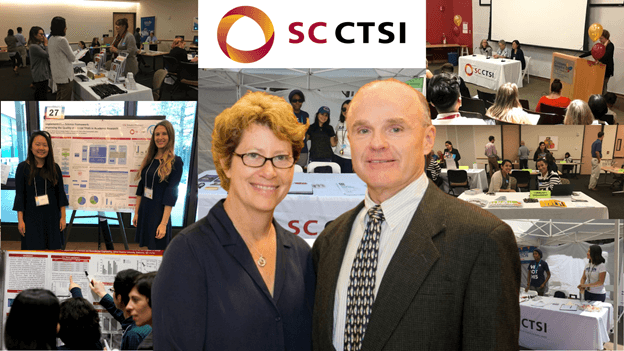 The SC Clinical and Translational Science Institute (SC CTSI) at the University of Southern California (USC) and Children's Hospital Los Angeles (CHLA) is planning a broad range of projects to support and improve clinical and translational research through renewal of a Clinical and Translational Science Award from the National Center for Advancing Translational Science in the U. S. National Institutes of Health. In addition to maintaining programs and offering resources that have become mainstays of CTSAs around the nation, such as biostatistics and study design expertise, clinical research support, educational programs and funding opportunities, the SC CTSI plans to launch more than 30 new initiatives in the next five years that set it apart from other hubs within the consortium.
These include a new internship programs to attract local high school and college students to careers in research, outreach programs to address health disparities in underserved communities, research to understand COVID-19 long-haul symptoms in pediatric populations, an initiative to prevent type 2 diabetes and obesity in Los Angeles and throughout Southern California, continued work with the writers and producers of popular television shows to address the health needs of high-disparity communities throughout the U.S., application of Artificial Intelligence to predict and improve health outcomes, and use of social and environmental determinants of health to advance precision research and clinical care.
"Clinical and translational research are evolving quickly. We are very excited about the opportunity to be engaged in that transformation with so many new programs aimed at improving health for our diverse patients and their communities," said Thomas Buchanan, MD, Director of the SC CTSI and Vice Dean of Research at the Keck School of Medicine of USC.
These new programs build on a strong track record of impactful research that the SC CTSI has conducted and supported in the past five years. For example: Researchers working with the SC CTSI Healthcare Delivery Science core demonstrated new approaches to clinical care in a safety net setting that reduced hospital admissions, improve glucose control, and reduced debilitating leg amputations in patients with diabetes. Team science experts in the SC CTSI helped cancer researchers develop the nation's first center for Young Adult Cancer Survivorship. A partnership between SC CTSI and Hollywood, Health & Society in the USC Annenberg School of Communication resulted in 17 clinical trial storylines in 10 television shows to help the public better understand the importance of participating in clinical research. Finally, the SC CTSI continues leading the charge in responding to the COVID-19 pandemic by launching VaccinateLA, a community partnered vaccination campaign supported by the W.M. Keck Foundation that has reached over a million residents in Los Angeles to date.
"I am so proud of what we have accomplished but I am also really excited about how we build on this foundation of success to launch new initiatives designed to improve the health of our patients and local communities," said Michele Kipke, PhD, Co-Director of the SC CTSI, Director of the SC CTSI Community Engagement program, and Associate Vice President for Strategic Health Alliances in the USC Office of the Senior Vice President of Health Affairs.
With so many successful activities already underway and many new initiatives planned, the SC CTSI looks forward to beginning the work they have set out to do in the next five years: collaborating with schools and departments at USC, CHLA, and the LA County Department of Health Services, along with CTSA hubs around the country.
The content is solely the responsibility of the authors and does not necessarily represent the official views of the National Institutes of Health.
Renewal
Grant
CTSA Award
NCATS
Clinical Research
Community Engagement
KL2 Scholar
Ansible
Ansible July 2022
---
Organization
University Of Southern California
CTSA Program In Action Goals
Goal 1: Train and Cultivate the Translational Science Workforce
Goal 2: Engage Patients and Communities in Every Phase of the Translational Process
Goal 3: Promote the Integration of Special and Underserved Populations in Translational Research Across the Human Lifespan
Goal 4: Innovate Processes to Increase the Quality and Efficiency of Translational Research, Particularly of Multisite Trials
Goal 5: Advance the Use of Cutting-Edge Informatics