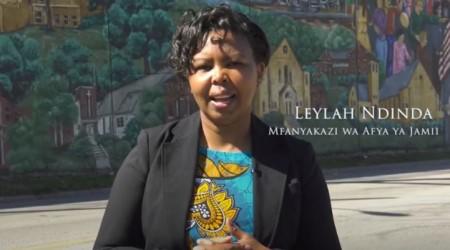 Community health workers and health equity teams across Kansas have partnered with the University of Kansas Medical Center to launch a multimedia campaign "Community Health Workers Beat the Virus" in seven different languages to encourage COVID-19 testing and vaccination among under-resourced populations.
This initiative is part of the Rapid Acceleration of Diagnostics for Underserved Populations (RADx-UP) program. KU Medical Center announced in October that it was one of 32 institutions nationwide to receive a $3.5 million grant from the National Institutes of Health (NIH) through the RADx-UP program to support projects designed to rapidly implement COVID-19 testing and vaccination strategies in populations disproportionately affected by the pandemic.
Counties participating in RADx-UP Kansas are Crawford, Douglas, Finney, Johnson, Lyon, Riley, Saline, Sedgwick, Seward, and Wyandotte. While the campaign is beginning first in Johnson, Sedgwick, Seward and Wyandotte counties, the idea is to encourage it in all participating counties.
Read more
community health
vaccine
medically underserved populations
---
Publishing CTSA Program Hub's Name
University of Kansas Medical Center
CTSA Program In Action Goals
Goal 2: Engage Patients and Communities in Every Phase of the Translational Process
Goal 3: Promote the Integration of Special and Underserved Populations in Translational Research Across the Human Lifespan