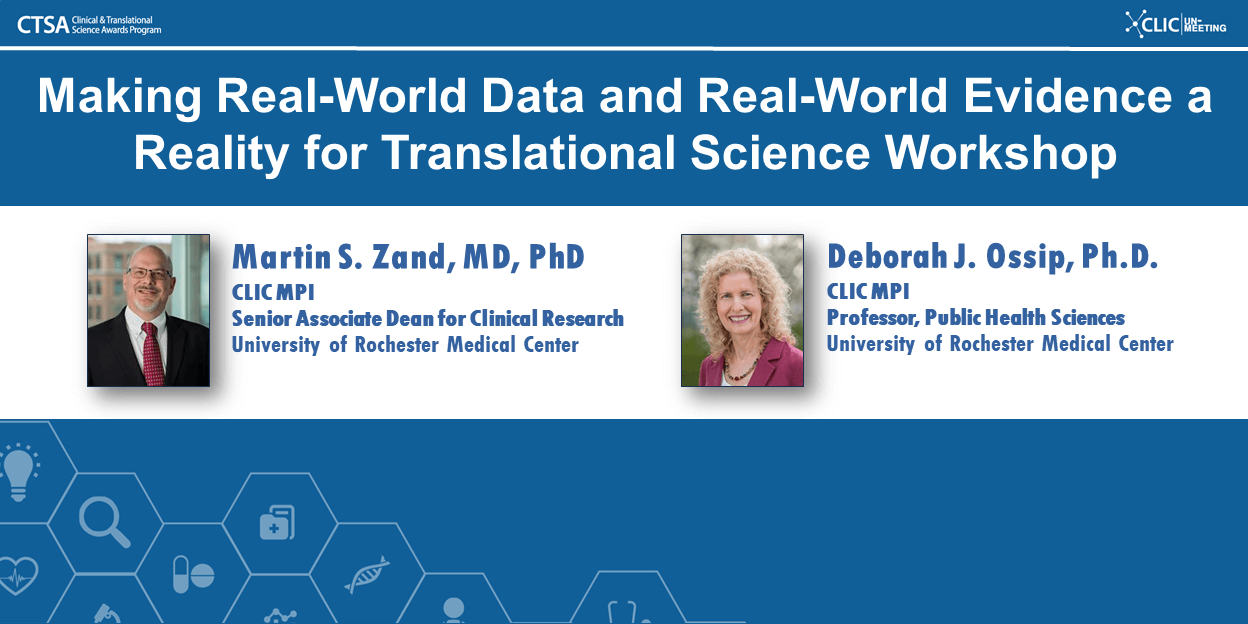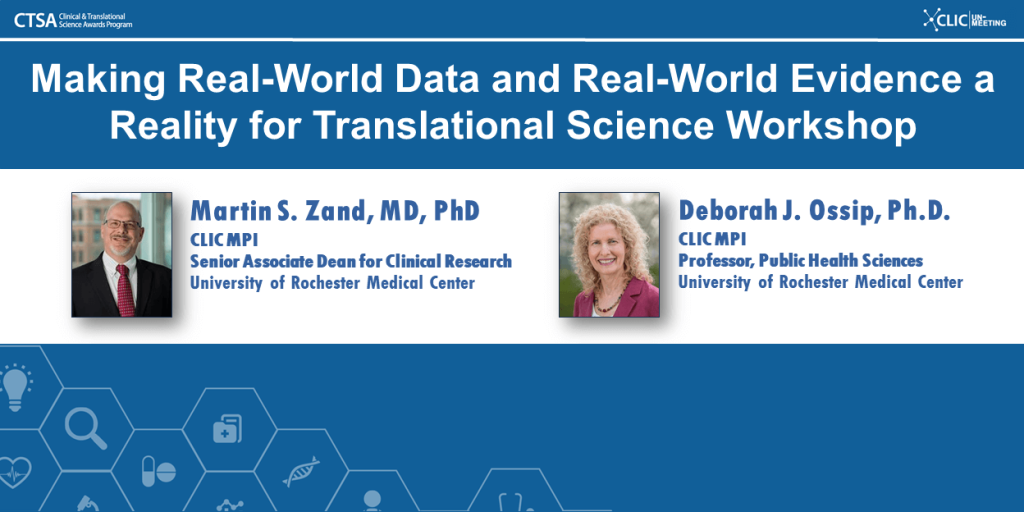 Researchers across the country gathered virtually earlier this month to dive into the ever growing pool of big data at the two-day Un-Meeting event, "Making Real-World Data and Real-World Evidence a Reality for Translational Science." The topic, chosen by the National Center for Advancing Translational Sciences (NCATS), was driven by the core principles of translational science: moving scientific discoveries into the "real world" effectively, efficiently, and safely.
The Day 1 Workshop kicked off with an introduction from Michael Kurilla, M.D., Ph.D., the director of the Division of Clinical Innovation at NCATS, honing in how the CTSA Program consortium can continue incorporating and innovating with real-world data (RWD) and real-world evidence (RWE) to continue improving human health.
"While the CTSA Program is involved in a lot of different aspects of translational science," he said, "overall, I think one of the things that has been a signature component of the CTSAs is the focus on informatics, clinical informatics, and data science analytics."
Kurilla used the National COVID Cohort Collaborative (N3C), which provides insights into clinical care related to the COVID-19 pandemic, as a prime example of data-driven work being done in the CTSA Program. The next steps moving forward, he said, would be to take advantage of the capabilities and possibilities of the N3C structure and make it applicable across the entire translational science spectrum.
Following this welcome, Martin Zand, M.D., Ph.D., CLIC's co-director, explained the workshop format and "un-traditional" Un-Meeting un-rules, which were slightly altered by the special two-day format of this event. CLIC Un-Meetings are designed to be collaborative, less structured and more participant-driven than traditional conferences. Thanks to the Day 1 Workshop, attendees were able to dive even deeper into the many topics that fall under the RWD/RWE umbrella.
Four sessions of live presentations, with subsequent Q&A sessions, followed these opening remarks, with topics ranging from, "Opportunities & Challenges for AI in RWD Science – Race and Imaging AI" to "RWE: Regulatory Considerations."
The second day was structured like a traditional Un-Meeting with a series of 4×4 presentations (four slides presented in four minutes). The presentations included topics from "Diversity, Equity, and Inclusion Matter for Intelligent Data" to "Using RWD/RWE at the Bedside to Improve Human Health." Presenters from both days represented multiple CTSA Program hubs, NCATS, and the U.S. Food & Drug Administration.
Attendees then jumped into various breakout rooms to further converse about topics such as:
Consortium Vision
Current CTSA Program RWD/RWE Infrastructure and Gap Areas
Using RWD/RWE at the Bedside to Improve Human Health
Data Quality, Data Sharing, & FAIR Data
Meeting materials, including presentation recordings from the second day, slides, and breakout room summaries, are posted on the CLIC website (login required). The Day 1 Workshop presentation recordings will be available soon.
Interested in continuing the conversations that you started at the Un-Meeting? Contact CLIC at [email protected] to set up a Spark Meeting!
Data Analytics
Big Data
Real-World Data
Real-World Evidence
CLIC Un-Meeting
NCATS
EHR
N3C
Ansible
Ansible July 2022